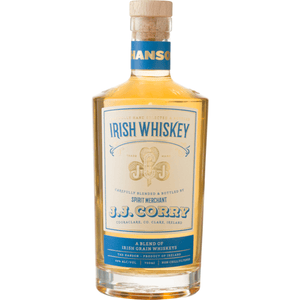 J.J Corry The Hanson Blended Irish Whiskey
DESCRIPTION
The Hanson and Glass Bundle contains a bottle of our award winning Irish Blended Grain Whiskey and a purposefully designed J.J. Corry branded Túath Glass. 
The Túath (tu – ah),  from the old Irish for family or nation, is a conical shaped nosing and tasting glass for whiskey that functions superbly by concentrating & capturing the aromas and flavors that make Irish Whiskey unique.
A celebration of Irish grain, The Hanson is the first blended grain Irish Whiskey ever created, and the perfect way for us to showcase the richness of grain casks in our flavor library. Developed specifically with the Highball in mind, to make the Hanson we selected 4 - 11 year old grain whiskeys from multiple Irish distilleries and blended to bring out notes of citrus fruits and spice. The Hanson is named after J.J. Corry's son in law who was the local whiskey tax collector in town.
Flavor Notes:
Bright and approachable, The Hanson has waves of vanilla fudge and toasted coconut on the nose, with top notes of griddled pineapple and lime. Fresh on the palate, green apples and lemongrass give way to a zingy mineralic finish. 
Serving Suggestion: This expression makes for easy drinking neat or mixed but was specially developed with the Highball in mind - just add ice and a soda with some citrus for a refreshing, elevated highball for a long, sunny afternoon. Pairs great with BBQ!
Aged 4-11 Years 750Ml 46% ABV / 92  Proof
Shipping Information
Unfortunately we cannot currently ship to Alabama, Alaska, Hawaii, Mississippi, Massachusetts and Utah.
All orders require a 21+ signature upon delivery or the package WILL NOT be delivered. 
This item is not eligible for return. 
Shipping Insurance is automatically applied to your cart.
Next Day & 2 Day Shipping orders must be placed before 2 P.M. (PST) Monday-Friday (During Business Days) for the package to ship out that same day, otherwise the package will ship out the next business day.
Ground Shipping orders can take an average of 1-3 business days to process and another 3-5 business days to ship. Packages can typically take around 8-10 business days to deliver depending on the distance the package is traveling.