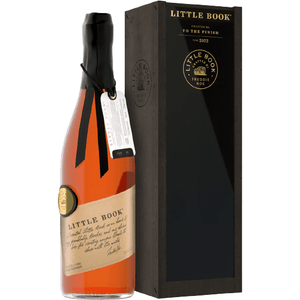 Little Book Chapter 6: To The Finish
DESCRIPTION
Little Book Chapter 6: To The Finish is the sixth chapter in the Little Book Whiskey series. "To The Finish" offers a chance for any curious whiskey drinker to expand their palate - both seasoned connoisseurs and newcomers alike. The name of this year's chapter offers fans of American whiskey an opportunity to experience liquid that I personally had a hand in creating and showcases the innovation of Little Book chapters over the last six years.

Little Book Chapter 6 is a blend of five different liquid streams using different wood staves and barrel techniques that impart a unique liquid profile due to the secondary aging. This chapter continues to push the boundaries of blending and challenges what some might assume of lower aged whiskies. The way these liquid streams complement each other makes this liquid extremely approachable, even for those who haven't given cask strength whiskey a try.

The inspiration for Chapter 6 came from combining two of my passions – cooking and whiskey. The way they complement each other and come together is what sparked my curiosity for "To The Finish". Using the smoke and flavor of hardwoods, I am able to bring together timeless tools from the culinary trade into pioneering my work with American Whiskey. The result is a taste that's bigger than its individual parts. A flavor made from generations of curing, grilling and distilling.

For the Noe family, the kitchen has always been a home away from the distillery and a way to share family traditions between generations. My granddaddy spent hours in the smokehouse practicing his craft and curing meats. My dad's passion was reinvigorated once I was old enough to tag along. Dad enjoyed teaching me about this family tradition and working to perfect granddaddy's sausage recipe – he always thought it needed a bit more sage. My personal passion is around family and cooking, looking into the details of what works and what doesn't. These traditions around family meals, shared traditions, and my pursuits at the grill inspire my own work in the rackhouse and they've been poured into Little Book Chapter 6.

Freddie Noe, 8th Generation Master Distiller, Fred B. Noe Distillery

LITTLE BOOK "TO THE FINISH" IS COMPOSED OF THE FOLLOWING LIQUID STREAMS
4-year Straight Malt Whiskey Finished with Cherrywood Staves
4-year Straight Malt Whiskey in Applewood Smoked Barrels
4-year Straight Malt Whiskey Finished in Hickory Smoked Barrels
5-year Kentucky Straight Bourbon
Shipping Information
Unfortunately we cannot currently ship to Alabama, Alaska, Hawaii, Mississippi, Massachusetts and Utah.
All orders require a 21+ signature upon delivery or the package WILL NOT be delivered. 
This item is not eligible for return. 
Shipping Insurance is automatically applied to your cart.
Next Day & 2 Day Shipping orders must be placed before 2 P.M. (PST) Monday-Friday (During Business Days) for the package to ship out that same day, otherwise the package will ship out the next business day.
Ground Shipping orders can take an average of 1-3 business days to process and another 3-5 business days to ship. Packages can typically take around 8-10 business days to deliver depending on the distance the package is traveling.
Little booker. Chapter 6
The little booker chapter 6 is absolutely delicious and incredibly smooth and tasty for a barrel strength bourbon. Just delighted with this choice and with PB Liquors excellent inventory and delivery service. All around top marks!