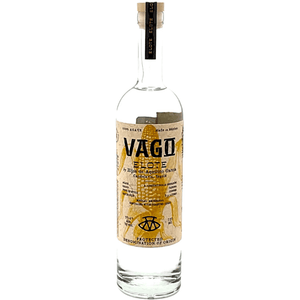 Mezcal Vago Elote By Hijos de Aquilino García López
DESCRIPTION
Aquilino Garcia Lopez adds roasted corn from his farm to the Vago Elote. The roasted corn taste shines through to the finish.
"Heady aromas of dried corn, watermelon rind, and a touch of gasoline are powerful and gently sweet. The flavors are tangy with crunchy corn kernels, autumn leaves, and puckery lime zest through and through. Delicious enjoyed neat or in cocktails." 94 Points, 2022 Ultimate Spirits Challenge
"At Vago, we believe in walking away from the beaten path, losing ourselves in the hills, and searching out the extraordinary. We seek out small batch mezcaleros, who for generations have been perfecting their craft deep in the mountains of Oaxaca. Each of our unique mezcals is naturally made in a traditional palenque with no additives. On the front label of each of our bottles, all the information is there about who made it, what pueblo, what agave, size of batch and more. This is connoisseur mezcal. We aim to empower both the master craftsmen with a celebration of his art, and also the consumer by giving them the knowledge they need to find a great mezcal."
Aquilino is the father-in-law of Mezcal Vago's co-founder, Judah Kuper. This family connection and his exquisite mezcal were the inspiration to form Mezcal Vago. Aquilino had never produced commercially before working with Mezcal Vago and produces exclusively for Mezcal Vago.
Aquilino García López, grows Maguey Espadín, and Maguey Mexicano. He wild harvests Maguey Cuixe (Tobasiche) and Tepeztate. He has taken over fields from his father and also has family and friends with whom he sources agave.
His palenque is in Candelaria Yegolé, Oaxaca (16°29'41.36"N, 96°18'38.69"W) This is a river town in a hot and dry climate at an elevation of around 1100 meters. Two rivers converge in a narrow Valley and it is mountainous on all sides. It is a rugged three-hour drive from Oaxaca city.
The palenque is on Aquilino's ranch where he lives full time. He and his father moved it to its current location 15 years ago. It has moved around from nearby locations over the years. He believes his family has been making Mezcal for at least five generations. Aquilino does nearly all of the work himself.
The Agave Espadín and Agave Mexicano both take 7 to 9 years to mature and Aquilino is very careful about only using ripe agave. It takes 1000 kilos to yield around 100 liters of Mezcal. So every 10 kilos will yield a liter. The Espadín we cut ranges from 5 to 100 kilos per agave with an average of around 50 kilos for a well-grown ripe piña (agave heart). Therefore, one ripe Agave Espadín yields around seven 750ml bottles of Mezcal.  A bit less but similar for Coyote, Arroqueño and Mexicano. Agave Tobalá and Cuixe yield even less.
Batch sizes of Espadín and Elote are around 750 liters. Each batch needs around 7 tons of cleaned and prepared agave piñas. Aquilino limits his batch sizes to one full oven.
Shipping Information
Unfortunately we cannot currently ship to Alabama, Alaska, Hawaii, Mississippi, Massachusetts and Utah.
All orders require a 21+ signature upon delivery or the package WILL NOT be delivered. 
This item is not eligible for return. 
Shipping Insurance is automatically applied to your cart.
Next Day & 2 Day Shipping orders must be placed before 2 P.M. (PST) Monday-Friday (During Business Days) for the package to ship out that same day, otherwise the package will ship out the next business day.
Ground Shipping orders can take an average of 1-3 business days to process and another 3-5 business days to ship. Packages can typically take around 8-10 business days to deliver depending on the distance the package is traveling.